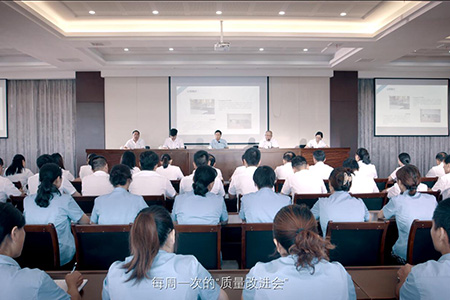 ----- Cultural Construction Practice of Yingtai Group
Yingtai Group has gone through 46 years. Summarizing the past and looking to the future, Inteck focuses on bringing the corporate culture closer to the corporate goals in cultivating corporate culture and building corporate culture, focusing on corporate culture to provide services for achieving corporate goals, and focusing on cultivating employees through cultural management to promote a better company Fast development. The group of Intech, headed by Chairman Ma Xianggen, knows that cultivating a people-oriented corporate culture must regard \"relying on people\" as the first prerequisite, \"respect for people\" as the first principle, and take \" To improve people\"as the first mission, \"for people\" as the first motivation. The starting point, foothold and destination of cultural construction are all for people. Build a first-class staff team, create a first-class business performance, and establish a first-class brand image. Yingtai regards \"forever starting a business and always striving for the first-class\" as the essential connotation of corporate culture, and cultivates and builds an advanced and unique corporate culture. \".
1. The basic connotation of corporate culture—\"18 British and Thai articles\"
The concept recognition system of Intech Group, namely \"Intech 18 items\", is mainly composed of three parts: strategic value concept, core value concept and series of values. 18 items are the core and soul of the corporate culture construction of Intech Group.
The essential connotation of Yingtai culture is \"always start a business, always strive for first-class\", this connotation is embodied in the following three basic cultural elements: gathering, fighting, and strengthening.
Gathering: \"Gathering\" refers to the meaning of gathering, fusion and cohesion. \"A gathering of talents, as powerful as Mount Tai\". The most important thing in the development of an enterprise lies in the \"gathering\". Only by gathering can we have the same mind, unite together, and work together. Gather can be harmonious, gather can win, gather can be strong. Putting people first, gathering talents, and uniting people's hearts is the source of the Intech Group's power; highlighting the main business, gathering resources, and scientific development are the foundation of the development of the Intech Group; gathering capital and staying ahead in the industry is the Intech Group Strategic importance.
Stroke: \"Stroke\" is the spirit. Struggle is the pragmatic spirit of loyalty, dedication, hard work, and selfless dedication; Struggle is the innovative spirit of hard work, persistence, perseverance, courage to be the first, and the courage to surpass; Struggle is to always pay attention to customers and improve ourselves everywhere Through innovative service methods, improve service quality, expand service content, and make customer satisfaction tangible and effective. Strike is to embody the heroic spirit of \"How many strokes can be made in life\" of Yingtai people. With the temperament, courage, and spirit of fighting, Yingtai can always start a business and strive for the first-class forever, to achieve a better today, and a brilliant future.
Strong: \"Strong\" is the purpose. \"Strong\" is the strategic pursuit of Yingtai Group. Yingtai has gone through nearly half a century and built a century-old Yingtai to achieve leap-forward and sound and rapid development and form a large enterprise group. It is to do everything possible to make the company stronger , Bigger. \"Strong\" is the lofty state of Yingtai people. Only by considering and planning oneself in an international context can we always maintain a big vision, a great realm, a big idea, a bold and generous strategy. Strong, requires enterprises to have strong independent innovation capabilities, strong resource integration capabilities, and strong comprehensive competitiveness. Constantly surpassing others, surpassing oneself, will be able to be self-reliant and have no way to compete.
Following the essential connotation of \"Always innovate and strive for the first-class\", and in accordance with the three basic cultural elements of \"Gathering, Fighting and Strengthening\", the overall cultural design of Intair Group has its direction and characteristics. Over the years of practice, Yingtai has gradually cultivated the following corporate cultural concepts.
(1) Values ​​at the strategic level
1. Corporate vision: highlight the main business, diversify development, and build a large-scale enterprise group with international competitiveness.
It is to build the Intech Group into a domestic and international market, able to expand and allocate resources on a global scale, with a well-known international brand, a first-class talent team, independent intellectual property rights, a modern management level and continuous innovation Capable of large enterprise groups. This corporate vision is not only the company's future development direction and development goals, but also a manifestation of the overall willingness of all employees of the company, is the spiritual strength of all employees of the company, and shows the lofty ideals and ambitions of the people of Intair.
2. Corporate mission: Create value for users and seek prosperity for employees.
Create value for users: change the economic growth mode, innovate the enterprise development model, adhere to the new industrialization and circular economy development path, extend the industrial chain through the promotion and application of new technologies and new processes, and strive to provide users with high-quality and efficient products and create for users value.
Seek prosperity for employees: People-oriented is the starting point and destination of the development of Intech Group. Employees are the main body and most important resource of an enterprise, and are the primary productive force of an enterprise. While the company is developing, Intech Group must always put the fundamental interests of the employees in the first place, seek happiness for the employees, and allow employees to share the development results with the company and grow together with the company.
The mission of an enterprise is the social significance of an enterprise's existence and the major social responsibility it should bear, and the purpose of the company's production and operation. It deeply reflects the company's values ​​and pursuits.
3. Enterprise goal: At the end of the \"Twelfth Five-Year Plan\" period, annual sales revenue will reach 1.2 billion yuan.
(2) Core values
4. The core concept of the enterprise: always innovate and strive for first-class.
The core concept of an enterprise is the belief that the company must adhere to in order to achieve its mission and goals, is the leading ideology of the company's strategic development, and is the most prominent and concentrated expression of corporate value. Hard work creates value, hard work creates glory. Pioneering, forging ahead, daring to be the first, and striving to be first-class, this core concept has a great motivational, guiding and leading role for all employees.
5. Corporate values: build a first-class staff team, create a first-class business performance, and establish a first-class brand image.
Corporate values ​​are the value standard for all activities carried out by the company, the fundamental principle guiding all actions of the company, and the cornerstone of the company's culture.
6. Enterprise spirit: pragmatism, harmony, innovation, excellence
Pragmatic: Seeking truth from facts, being down-to-earth, working hard, and emphasizing practical results.
Harmony: It means to be concentric, create and share together, harmony inside and outside, and mutual benefit.
Innovation: Seeking channel while living, seeking innovation while changing, seeking good from new, seeking fast from good.
Transcendence: It means to lead step by step, dare to strive for first-class, brave to break through, and create excellence.
The spirit of enterprise is a positive psychological state and group consciousness formed by all employees in the enterprise during the process of realizing the strategic development of the enterprise, during the production and operation of the enterprise, and on the basis of inheriting the excellent cultural traditions. , It is a powerful driving force that encourages all employees to strive for the realization of the company's vision. The first heart given to employees by the senior team of an enterprise is a sense of responsibility. Responsibility is a noble concept of team members and the core of employees' professional ethics. Responsibility is a warning and restriction of team members on their own responsibilities. Yingtai people use the eight-character entrepreneurial spirit to motivate themselves \"intentionally\" to work. Only \"intentional\" can they be focused, persistent and achieve career success.
7. Corporate style: vigorous and resolute, implementation in place.
Resolutely: Seize opportunities, react quickly, and act quickly. Only by seizing the first opportunity can we lead our competitors and gain an advantage in the competition.
Implementation is in place: it is true to all, due diligence, high performance and high efficiency. Only down-to-earth, down-to-earth, and all departments of the company keep pace, can we adapt and control the market at a fast pace.
Corporate style is the attitude and behavior of corporate employees in terms of thinking and work that they have shown in their long-term production practices. Good corporate style will produce good corporate behavior, which plays an important role in improving production and operation and improving work efficiency.
8. Business philosophy: be honest and do things with integrity.
Be a man beforehand, and accomplish things in good faith.
Be honest: be honest, do practical things, and be responsible.
Do things with integrity: to do things with ethics, keep promises, and respect credibility.
The business philosophy is the market-centered policy and ideas that guide the business activities of the enterprise. Honesty and trustworthiness, as a basic ethical and moral requirement, not only has been passed down in traditional Chinese culture for thousands of years, but also has become a common concept of modern economic behavior. Under the conditions of market economy, honesty and integrity are the company's business development. cornerstone.
9. Corporate management philosophy: standardize systems, clarify responsibilities, and focus on efficiency.
Standardized system: It is to formulate a scientific, systematic and perfect system, and implement the system to the full.
Clear responsibilities: It is to clarify the tasks, fulfill their duties, and take their own responsibilities.
Focus on efficiency: It is to make efficient decisions, react quickly, and act quickly.
Enterprise management philosophy is the basic policy guiding the company's management activities and the essence of management thought and methods. A good management concept is the prerequisite and guarantee for guiding employees to do a good job. System construction must be systematic, scientific, rigorous, standardized, and applicable. Responsibilities must be specific, in place, strong in execution, and in place. This is the guarantee for the effectiveness of management.
10. Build the executive power of the corporate culture, and the middle-level management personnel of the enterprise are connected with each other and have heavy responsibilities.
The company's middle and high-level management personnel post behavior standards are:
Consider the overall situation to promote development, fine management and good operation, grasp implementation and seek practical results, and set an example to strive for the upper reaches.
\"Considering the overall situation to promote development\" specific requirements to achieve \"five persistence\": that is, insisting on starting from the overall situation of the group; insisting on focusing on the overall situation, analyzing and solving problems; insisting on unswervingly implementing the group company The decision-making and work deployment of the company; insist on going all out to complete the tasks and indicators assigned by the group company; insist on taking the initiative to do a good job of coordination between departments, and take the initiative to solve problems for the grassroots.
\"Fine management and good management\" specific requirements to achieve \"five efforts\": that is, to do everything to grasp corporate culture and safe production; to promote management innovation; to improve management efficiency; to optimize operating mechanisms; to create the best management Performance.
Grasping implementation and seeking practical results \"specific requirements to achieve \"five in-depths\": that is, go to the grassroots level to do a good job in the implementation of the group company's various decision-making decisions and work deployment; go to the market to organize product marketing activities; go to the team to guide, inspect and Promote the healthy development of various undertakings and jobs; thoroughly analyze and solve problems in actual practice; investigate and solve problems among employees.
\"Being an example and competing for the highest level\" The specific requirements to achieve the \"four consciousnesses\": that is, consciously doing business, pioneering and enterprising: consciously seeking truth and being pragmatic, and doing hard work; consciously being clean and self-disciplined, self-denying and serving the public; consciously being an example, Strive for first-class.
11. Strengthen the middle level and consolidate the grassroots level, focusing on improving the overall quality of all employees.
The post code of conduct for production operators is:
Refined operation skills, meticulous production operations, meticulously build high-quality goods, and excel in energy saving and consumption reduction.
\"Refined operation skills\" specific requirements to achieve \"four proficiency\": that is, master the professional knowledge of this post; master the production skills of this post; master the process flow of this post; master the safety operation regulations of this post.
\"Fine production operations\" specific requirements to achieve \"four meticulous meticulousness\": namely, carefully and meticulously perform equipment operations; meticulously and meticulously control the production process; meticulously and meticulously manage the production site; meticulously and meticulously complete Various production tasks.
\"Creating fine products carefully\"The specific requirements are \"four stricts\": that is, strictly perform quality management responsibilities; strictly perform quality control; strictly perform quality control; strictly eliminate quality defects.
\"Proficient in energy saving and consumption reduction\" The specific requirements are to achieve \"four efforts\": namely, strive to reduce the consumption of raw materials; strive to reduce energy consumption; strive to reduce production costs; strive to tap potential and increase efficiency.
(3) System values
12. Career concept: Persist in scientific development, think and do things, accomplish things, and do great things.
Want to work: It means to have ideals, ambitions, and entrepreneurship.
Achieving a job: It means having a clear idea, correct method and good effect.
Doing big things: is based on one's own position, pursues excellence, and creates extraordinary in ordinary positions.
From top to bottom, from leaders to employees, the company must be extremely responsible for the work and strive for excellence in management.
13. The concept of talents: A good job is a talent.
This concept of talents fully takes into account the characteristics of Intair Group's multiple positions and multiple types of work, and has a good guiding significance for every employee in different units, departments and positions of the group company. A good job is the most basic requirement for talents, and it is also the most realistic requirement. This is a truth-seeking and pragmatic view of talents, requiring employees not only to be competent, but also to do well, and to encourage employees to love their jobs, be proactive, work hard, and become talented.
14. Safety concept: Safety is the regulation, and safety is implementation.
15. Quality concept: quality first, reputation first.
Quality and credibility are equal to the market and benefit. They maintain the life of an enterprise and are the foundation for the survival and development of an enterprise.
16. Service concept: devote all your efforts to surpass all dreams of customers.
Satisfying customer satisfaction is the starting point for all work. We must always put customer satisfaction in the first place and strive to provide customers with the highest quality products and services.
Satisfying the pursuit of customers is the highest point to win the market. We must always regard the pursuit of customers as the highest pursuit of the enterprise, and strive to create value, mutual benefit and win-win with customers.
Customer demand-oriented is the foothold and starting point of all services of Intech Group.
17. Crisis view: Without a sense of crisis, it is the greatest crisis.
The market economy is fiercely competitive and perilous. The crisis is not terrible. What is terrible is that there is no sense of crisis. Establishing a correct sense of crisis, being prepared for danger in times of peace, and advancing in times of danger, is conducive to enhancing the enterprise's awareness of risk prevention and improving the ability to respond to and resolve crises.
18. Corporate Ethical Code of Conduct:
Pursue customer satisfaction, seek employee prosperity, build a harmonious Yingtai, and create an ecological civilization.
\"Pursue customer satisfaction\" specifically do \"five persistence\": that is, adhere to the principle of honest management: adhere to the principle of credibility first; insist on sincere cooperation with customers; insist on creating value for customers; insist on serving customers well.
\"Seek employee wealth\" specific requirements to achieve \"five commitments\": that is, committed to practicing people-oriented; committed to improving the working environment and working conditions of employees; committed to increasing employee income by improving efficiency; committed to mobilizing and protecting employee enthusiasm; Promote the common development of the company and employees.
\"Building a harmonious Yingtai\" specific requirements to achieve \"five consciousnesses\": that is, consciously take the creation of a harmonious Yingtai as its own responsibility; consciously abide by social morality; consciously promote social justice; consciously maintain social order; consciously promote the company's The common prosperity of society.
\"Create ecological civilization\" specific requirements to achieve \"five efforts\": namely, fully implement the \"harmonious and warm home\" environmental view; fully strengthen ecological environment protection; fully promote clean energy production; fully promote environmental friendliness Construction of an enterprise-oriented enterprise; fully promote the common development of the enterprise and the ecological environment.
2. Create a strong brand culture and enhance corporate competitiveness
As the leader of China's generator set industry, Inteck Group has always been advocating to lead the healthy and sound development of the entire industry as its responsibility for many years, and has been committed to achieving \"social value\" in addition to corporate value. Yingtai people believe that \"creating value\" is not only to create the value of the product, an enterprise should continue to manufacture high-quality products and create value for users, but also shoulder the responsibility for the healthy development of the entire industry, and more importantly. Responsibility to establish and maintain the image of the industry. Inteck is always keeping this responsibility in mind, relying on product quality upgrades, to create value for users; to promote the application of leading technology and improve generator set technology, to create value for the industry; to actively participate in social welfare undertakings, and earnestly fulfill the responsibilities of corporate citizenship. Society creates value. Through the forward-looking development model of high-quality products, perfect services, and innovative technology applications, Intech is playing a leading role in continuously accelerating the overall progress of the industry.
Yingtai adheres to the \"user-centric\" cultural philosophy, and provides users with high-quality products from the three levels of use value and economic value.
Intair's corporate culture is a humanistic corporate culture. The cultivation of this culture cannot be achieved without the high attention of the company's senior management, and the company's continuous training of employees and daily cultural construction.
\"Entrepreneurship forever and strive for the first-class\" is the essential connotation of the culture of Intair Group, which maintains the survival and development of Intairemotional support.\"Entrepreneurship forever\" is motivation, direction and goal. Yingtai Group will continue to surpass itself, challenge the future, and strive for greater development along the lines of \"progress in stability, seeking fast in good, and sustainable development\". \"Entrepreneurship forever\" confirms that in the market competition, Yingtai people are cautious and always maintain the passion for entrepreneurship; in the reform and development, deny the old self, surpass oneself, and create a new self, which is to survive pragmatically and innovate Seek development, so that the company continues to develop healthily \"Forever striving for first-class\" is courage, courage and consciousness. \"Striving for first-class water\" reflects the brilliant practice of Intair Group's continuous self-improvement, hard work and enterprising, embodies the strong desire of Intair people for development, and demonstrates Intair people's development goal of always striving for first-class. \"Striving for the first-class\" establishes that Yingtai people regard enterprise development as their life, work hard and pursue continuous pursuit. Encouraged by this spirit, Yingtai people developed a small enterprise with backward equipment into one of the top ten enterprises in the country for internal combustion power generation equipment in just a few years, and won the National Science and Technology Gold Award. Now, the group has16Subsidiaries, the products sell well all over the country, and export in batches10Many countries and regions,YTMThe brushless generator was rated as \"Famous Brand Product of Jiangsu Province\", and the brand of \"Yingtai\" was recognized as \"Famous Brand of Jiangsu Province\". These honors are the crystallization of the hard work of all Yingtai people and the wisdom of their long-term hard work.
In the face of fierce market competition, Intech has implemented a brand strategy. In order to start the \"Intech\" brand, Intech has cultivated the brand with its leading products: generator sets, lithium batteries, and radiators, and shifted from product marketing to brand marketing. Make old products new, make new products stronger, make local products foreign, and make soft products hard. Through new products, modern products, new craft products and creative products, we can maximize the profits of the company, go abroad, and let the brand and foreign exchange earn a double harvest.
Secondly, we have paid close attention to the management of the intangible assets of the \"Yingtai\" brand, and formed the \"Yingtai\" management method that integrates corporate image and asset management, so that the \"Yingtai\" brand\"cake\" more To grow bigger and at the same time strengthen marketing, expand the market share in the way of \"points, lines, and surfaces\", and effectively expand the connotation and extension of the brand. The company promotes its products through product exhibitions, online publicity, media publicity, user forums, etc., so as to improve brand awareness and credibility.
Intech's corporate culture construction organizes employees to learn new business knowledge through various conferences, blackboard newspapers, and plaques in production workshops and public places, and conduct ideological education, dedication and education in accordance with the requirements of the scientific development concept. , Conduct education on compliance, safety production, and civilized operation, organize employees to review the company's arduous entrepreneurship from small to large, and the history of carrying forward with great burdens, as well as the benefits and wonderful life that the majority of employees have obtained from it, so that employees can further cherish it. Hard-working jobs, cherish the united and forge ahead collective, never forget the sense of responsibility of the owner, the sense of survival crisis, the sense of institutional constraints, and the sense of urgency of competition, learn to be a human first and then do things, work hard and keep pace with the times, Dedication hard. Due to the continuous improvement of the ideological quality of employees and the gradual improvement and implementation of various rules and regulations, in recent years, there has been no violation of laws and disciplines among cadres and employees of Yingtai, the production is orderly, the environment is clean and beautiful, and the construction of three civilizations is moving forward simultaneously. An ideal, ethical, educated, and disciplined \"Four Have\" team is gradually forming.
With the goal of shaping brand image, enhancing corporate value, and enhancing group cohesion, we will give full play to the integration function of corporate culture, so as to unify the thoughts of all employees to the strategic goal of building a large group. Inteck Group has the following four aspects in corporate culture construction Start in all aspects.
(1) Compile a corporate culture development plan and accelerate the full implementation of market-oriented fine management
The first step, from 2006 to 2008, is to fully launch and popularize corporate culture knowledge, develop a corporate culture image recognition system, strengthen internal quality, shape the image on the outside, and create a strong corporate culture atmosphere; the second step, 2009-2012, promote the system Innovation and Responsibility Target (RAM) management will implement corporate culture construction tasks; the third step, 2012-2016, will further promote refined management, establish a sound management system, enhance corporate culture, and form a Yingtai's characteristic corporate culture system.
The basic connotation of the market-oriented fine management model is: to link each production system, each unit, each team and each process within the company with the relationship of market users, so that each system, each unit, and the upper process The products or services provided are transformed into the value measured by the internal price and the products recognized by the next process, and the paid settlement is implemented to achieve the purpose of motivating employees, controlling costs, and improving economic benefits.
The core of market-oriented fine management is to introduce market mechanisms into enterprise internal management. The essence is to use market-oriented means to drive fine management in place. Its purpose is to fundamentally solve the problem of extensive management and consolidate the management foundation for the rapid development of the enterprise.
The market-oriented fine management model has six essential characteristics:
One is human-oriented management. In order to meet the needs of employees, reflect their own values, and realize their development aspirations, it is fundamental to build an internal market competition platform for employees to demonstrate their own capabilities and realize self-management.
The second is autonomous operation. In accordance with the principle of \"self-management, self-control, self-restraint, and self-financing\", let every team and position become a \"business efficiency unit\", and every employee will become a node of \"business efficiency.\" \".
The third is price assessment. Quantify employees' job tasks, work processes and work effects, determine labor prices, service prices and comprehensive prices in the form of piecework or timing, and change the invisible and hidden human scoring assessment into a tangible and open price The assessment reflects the principle of \"how much work, how much money you earn, work more, and more money\".
The fourth is market links. The upper process and the next process, the production unit and the service unit are linked in the form of internal market transactions, operating in accordance with the internal market operating rules, and using the \"invisible hand\" of the market to stimulate control, allocate resources, Orderly competition and collaborative cooperation embodies the chain management principles of \"who do the work for and ask for money\" and \"who is serious and benefits\".
The fifth is refined operation. Accurate measurement, streamlining processes, precise operations, subdividing links, detailed procedures, detailed management, from quantification to refinement, from links to procedures, to positions, from process to results, continuous innovation, continuous improvement, continuous evolution, continuous perfection , Embodies the refined management orientation of \"gradual progress and continuous development\".
Sixth, information support. Relying on the support platform of the management information system, realize the \"daily settlement\" and dynamic management of production and operation, complete the transaction settlement, business accounting, cost analysis and comprehensive analysis of economic operation among market entities, and achieve the disclosure of operating results at all levels , Fair and transparent, embodies the corporate management concept of \"communication, precision and transparency\".
(2) Leaders pay attention, improve organizational guarantees, and provide material guarantees
Establish a sound leadership system, establish a management organization compatible with the management system of the group company, and form a work system that is jointly responsible for the party and the government, the responsible departments are the backbone, the division of labor is implemented by the functional departments, and the whole group is linked. Increase the investment in software and hardware for corporate culture construction, set up special funds for corporate culture construction, and include it in the corporate financial budget, use corporate culture carriers and facilities, expand the space for corporate culture development, and carry out effective corporate cultural activities.
(3) Establish a long-term mechanism
Build a humanistic culture centered on the all-round development of people and embody human values, respect human values, and implement people-oriented ideals throughout the entire process of corporate culture construction. Build a material culture centered on \"richness\", market-oriented, and benefit-centered, develop material civilization, and lay the material foundation of corporate culture. Build a management culture centered on efficiency, develop advanced productivity, promote technological innovation, institutional innovation, and management innovation, advance informatization, and realize modernization. Build a brand culture centered on \"integrity\", take customer satisfaction as the goal, strengthen quality management, reduce production costs, and reasonably meet the needs of different stakeholders. Build an image culture centered on the promotion of corporate image, and form a long-term mechanism for the development of corporate culture based on building human-oriented culture, business culture, management culture, and brand culture.
3. Focus on talent strategy and activate the source of science and technology
In order to make the enterprise further develop, produce high-tech products and create the greatest social and economic benefits. Yingtai people always pursue science and technology first, increase investment in science and technology, strengthen technological innovation, accelerate product upgrading, aim at the forefront of international technological development, vigorously enhance technological innovation capabilities, and aim to develop products with independent intellectual property rights. Thus played the role of \"catalyst\" and \"accelerator\" for the development of Yingqin.
Intech regards human resources as the first resource. Clarified the talent concept of \"Having both ability and political integrity, knowing people for good use, gaining something for work, and rewarding for merit\", so that people can make the best use of their talents. To sum it up, it is \"three letting three not letting\" and \"three keeping people\", that is, let those who want to work have the opportunity, let those who can work have a platform, let those who can work have a status; don't let achievements Prominent people suffer losses, don't let those who immerse themselves in hard work, and don't let those who tell lies take advantage. \"Three Retentions\" means retention of careers, retention of emotions and treatment, allowing highly skilled talents in the enterprise Technological research, technological innovation, invention and creation, business management and other aspects play an important role to promote scientific and technological progress of enterprises and increase economic benefits. Paying attention to the brand and beautifying the environment makes the heroes of technological innovation politically glorious, economically affordable, and decent in life. In recent years, many front-line employees of Intech have been promoted to leadership positions. Intair hired relevant domestic well-known experts to work in the company, boldly let them use them, let them have their duties and responsibilities, give full play to their role, and received very good results. At the same time, Yingtai strictly implements an open, fair, just, and merit-oriented employment mechanism and a distribution system with distribution according to work as the main body and multiple distribution methods coexisting, and insists on morality, ability and performance as the main criteria for measuring and evaluating talents. , Implement the methods of setting up posts according to needs, recruiting posts by competition, fixing remuneration based on posts, and survival of the fittest, so that personnel can enter and leave, jobs can be up and down, salaries can be high and low, and people's potential can be activated to the greatest extent. Not only the qualifications, but the selection of talents without sticking to one pattern provides a stage for the majority of employees to realize their self-worth, promotes outstanding talents to stand out, and creates a high-quality talent team including management talents, technical talents and highly skilled workers .
In the development of the group, the people of Yingtai deeply realize that technological innovation can improve the technological and equipment level of product production, promote product development and application research, promote industrial upgrading and product structure adjustment. Therefore, Intair Group advocates marriage with scientific research institutes, schools and enterprises, and encourages subsidiaries to jointly seek technical support, management support and cultural support. The company has successively established a \"production-university-research\" collaborative relationship with scientific research units such as the Institute of Electrical Engineering of the Chinese Academy of Sciences and the Shanghai Institute of Electrical Machinery Technology to jointly research and develop a new generation of high-efficiency and energy-saving technology products YTW brushless generators, and cooperate with Tsinghua University to research power lithium batteries Project and development and production of lithium iron phosphate materials. The new diesel engine radiator products have been exported to Dongfeng Cummins, and have been matched with Tongchai, Chongkang, Jichai, Weichai, Shangchai and other companies, and have developed construction machinery radiators. On the basis of consolidating, steadily and developing the generator set and lithium battery market, the group company has built a new plant of 25,000 square meters, increased equipment investment by 5 million yuan, expanded the production of radiator series products, and expanded the products to dozens of With a scale and hundreds of varieties, the annual production capacity can be increased by 10,000 units and the sales volume can be increased by 100 million yuan.
Yingtai relies on the introduction of technology and technological innovation to update and upgrade traditional products, rely on talents and cooperation with the outside world to develop and produce marketable new products, rely on the strength of the company to create brand-name products, and provide a strong guarantee for corporate product sales , The group makes decisions based on market information and implements a modern enterprise cascade development thinking, that is, develop one generation, reserve one generation, and conceive one generation \", and constantly introduce new products to the market. Ma Xianggen, Chairman of Intech, said this to the company's cadres and employees Words: \"Grasping the market is like piercing a needle with lightning\" Yingtai people always adhere to high standards and high-level requirements to build an enterprise's technological innovation platform, and do not engage in blind investment or marathon projects. Yingtai people have stable market demand and profit Products with strong capabilities and mature technology are put into mass production in time; for products with market potential and high technological content, increase development efforts, form industrialization plans, and actively guide the market to expand product sales: relative to established concepts and theories High-end products with mature, high starting point and new methods actively do a good job of technical reserves before R&D. The technical reform idea is: choose the right way, do what you can, step by step, rolling investment, and steady development.
To promote technological innovation, investment is the key. Only by making the \"cake\" invested in innovation bigger can the enterprise become stronger. Therefore, the company has increased its mainstay investment in enterprises, and has continuously increased scientific research funding and innovation funds. In recent years, the company has further carried out technical transformation of existing old products, extended development efforts, accelerated the development of high-power generator sets, assembled a single unit with a power of more than 5000KW; developed a single generator of 1000-1800KW; 280 generators from 10 to 24KW , 300~500KW are all remodeled. According to market demand, the company continues to add advanced equipment such as CNC punches and lathes to expand production capacity and strive to achieve a single-machine output of 2 million KW. At the same time, we continue to make a big fuss about the purchase of materials, so that we can shop around, compare prices and quality, start from bit by bit, reduce loss and waste, and lay a solid foundation for reducing costs and increasing efficiency. At present, the company is facing the international financial crisis. Not only has it not laid off staff and reduced salaries, it has also recruited a new group of employees in the society to enrich the production line, and hired more than 10 talented technical and management people to work in the company.
For more than 40 years, Yingtai people have undergone the test and baptism of change again and again, and achieved surpassing and improvement time and time again. Yingtai Chairman Ma Xianggen called this transformation of traditional products \"standing on the shoulders of giants Innovation\" means to combine new technology with traditional equipment, so that users can feel the benefits brought by new technology under the premise of ensuring that equipment products meet stable operation. Over the years, in the process of turning traditional products into their own distinctive products, Intair Group has declared 29 national patents, including 3 invention patents, 8 new-type patents, and 18 appearance patents. The main products were identified as 5 high-tech products in Jiangsu and 1 high-tech enterprise in Jiangsu Province, and the Yangzhou Enterprise Technology Center was established. Each patent is the result of solving the problem, and each patent has been industrialized, forming high and mid-range coexistence, combining research and development with pre-storage, and realizing the technical advantages and product advantages of diversified series development.
With its continuous development of new products, high-quality product quality, good business performance and market reputation, Intech has been favored by domestic and foreign merchants. The products are sold all over the country and exported to the United States, Germany, the Philippines, Sudan, Sri Lanka and other countries.
4. Adhere to people-oriented management and build a harmonious enterprise
In order to improve work performance, enhance the combat effectiveness, centripetal force and cohesion of employees, and strive to create a refined management company, Yingtai people continue to free their ideas, boldly innovate, and strive to build \"scientific development as a foothold, reform and innovation as the focus, and harmony The enterprise is the foothold\", revolving around \"double down, one creation, two promotion\". Namely: reduce consumption, reduce costs, create innovative management.
In production management, Yingtai people put forward \"a golden idea, a new idea, a clever idea\" around energy saving and consumption reduction; \"a small innovation, a small improvement, a small invention around innovation and efficiency \"; Put forward \"a good suggestion, a good idea, a good idea\" around production management. In order to give full play to the innovation ability of the majority of cadres and employees, at the same time, the management work should be refined and in place, so that there is no slack and no chaos in the busy, where there are people in charge and everything is done. Each workshop follows the job requirements, step by step, and work in an orderly manner. , Every post has the responsibility to refine, through the detailed requirements to regulate the behavior of each employee, do not let go of a \"low standard\", do not forgive a \"small mistake\", do not tolerate a \"good life\"Let every task be implemented into individual management, so that everyone has a task, has a division of labor, everything has rules to follow, everything is implemented by someone, and everything is well documented. Intech Group has detailed every function and every job to every department, and every detail of every job is strictly managed, and every work procedure and job requirements are clarified, so as to achieve from leadership to employee They have clarified the job responsibilities and made various management work scientific, standardized and systematized. Thus, the cultural concept of \"a belief\" keeping in mind\"two consciousnesses\" and striving to create\"four first-class\"realizing\"five-type enterprises\" is established. That is to establish the belief of \"unity, forge ahead, pragmatic and efficient, pioneering and innovative\"; keep in mind \"service awareness, efficiency awareness\"; realize \"build a first-class team, establish a first-class image, create a first-class performance, and make a first-class contribution\" Goal; to create a\"learning, innovation, service, efficiency, and harmony\" enterprise, aiming to establish a vibrant, lively, tense and orderly British-Thai culture.
In quality management, in order to further gain market share, Yingtai people have established the\"four constants\" of quality management based on refined quality management. The policy of expanding the market with quality remains unchanged, the idea of ​​creating a brand with quality remains unchanged, the principle of improving efficiency with quality remains unchanged, and the awareness of winning customers with quality remains unchanged. At the same time, Yingtai people have established and perfected a set of effective quality management system characterized by\"strict, detailed and practical\". First, highlight the word\"high\", namely: the detection system must be high; the production and service processes must be high ; The testing personnel must be highly skilled. It is to work hard to make employees have high quality and pursue to do things right at one time. Secondly, we must fix the word\"strict\", namely: strict requirements; strict use. In the end, it must reflect the word \"excellent\", namely: high-quality production, high-quality service; it is to realize the high-quality brand strategy, win respect with reputation, and seek development with quality. With first-class quality and first-class technology, we provide users with satisfactory products and excellent services. After the company's products successfully passed the S09001 quality system certification, it quickly received the China Classification Society CCS Marine Product Approval Certificate, the Post and Telecommunications Network License of the Ministry of Information Industry of China, and the BV international certification. At present, the sale of marine machinery has achieved initial results, and 3 agents have been developed. In Intech, all employees follow the principle of \"the next process is the user\". This deep-rooted quality awareness has become Intech's most reliable quality assurance. \"Quality first, output later; service first, sales later\" is the guarantee of the quality of Yingtai products. A perfect service system, a grand service network and an excellent team provide a strong guarantee for the majority of users, so as to pass the unique cultural personality of the company to the users and establish a good brand image.
In training management, Yingtai people implement training institutionalization, standardization, and regularization, adhere to the principle of\"management, equipment, and training\", adopt full-staff training and professional training, internal training and external training, theoretical training and The main training method that combines technical training has cultivated a team of well-qualified employees. In the pre-training of new employees, in addition to basic job knowledge and skills training, it also strengthens the learning and education of corporate culture to enable new employees Employees have a clear understanding of Intech's history, corporate culture and rules and regulations, and unify their thinking to the group's development goals.
Yingtai people achieve harmony between the cadres and the group, the beauty of the environment, and the joy of the mood through the \"Xintong\". Heart-to-heart communication is the goal of Yingtai \"home harmony\" culture. The improvement of quality is the foundation of heart-to-heart communication. Yingqin guides employees to establish a new concept of \"lifelong learning, happy learning\", organizes cadres and employees to learn from practice, learn with problems, concentrate on learning, and \"learn with the mind\" , Invited relevant experts to give lectures in the company, through learning, everyone agreed that \"doing every simple thing well is not simple, and doing every ordinary thing well is extraordinary\", to achieve the same boat as the enterprise, The good wish of working together, encourages employees to learn a new skill and continuously improve their comprehensive quality while learning and proficient in the business knowledge of the job.
Intech Group pays special attention to humanized management and benefits for employees to seek common development. In the words of the company's chairman Ma Xianggen: \"Treat employees well, not'showing', but doing practical work for employees. Good thing.\"
In recent years, Intech has spared no effort in cultivating common values ​​of employees and creating a harmonious family garden. Walking into the garden-like factory area of ​​Yingtai Group, there are flowers and plants in it, and a bright, clean and comfortable feeling emerges spontaneously. The various production lines in the workshop are full of modern mass production momentum, and the spring breeze employees are attentively monitoring each production link. In the employee activity center and reading room, a dazzling array of books, newspapers and magazines provide employees with rich spiritual food. All this is filled with the fragrance of a corporate culture. Intech's common goals and values ​​are rooted in the hearts of every employee through various \"moisturizing and silent\" methods, and then become the driving force for corporate development.
In addition, Yingtai Group has promoted the concept of \"user-centered\" to the value of \"true feelings\" as the core value, cultivates true feelings with culture, and promotes culture with true feelings. In recent years, the group has donated 10 million yuan in social welfare undertakings to support the construction of some cement roads in towns and villages; supports education, pays attention to disadvantaged groups, promotes the traditional virtues of the Chinese nation, and establishes the social image of Yingtai with truth. During the fight against the epidemic this year, 300,000 yuan was donated to the People's Government of Xiaoji Town.
Building a harmonious culture and building a harmonious enterprise are the requirements for Intair to thoroughly implement the scientific development concept and to build a harmonious development for Intair, and it is also the demand for Intair to develop well and quickly. In recent years, Yingtai people have combined the corporate culture concept with reality, through the rationalization of the system, the activation of the mechanism, the adjustment of the structure, and the support of the popularity, the corporate culture concept has been effectively integrated into the employees' In thinking, let employees feel the changes around them, which arouses the resonance of employees' hearts. Sublimation in integration and innovation in development, Yingtai people will continue to give new era connotations to corporate culture, turning the soft power of corporate culture into productivity and competitiveness of the company.