Defining the decisive battle backing by the enterprise! YingTai Group donated 300 000 yuan for epidemic prevention funds
Views:1 Author:Site Editor Publish Time: 2020-02-06 Origin:Site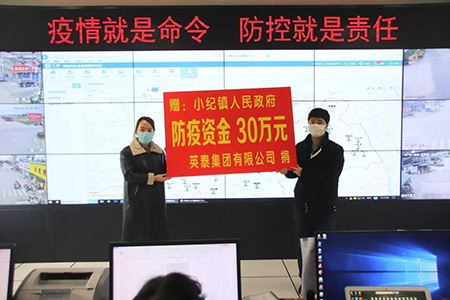 To win the decisive battle, the company is backing! Recently, in the face of the raging novel coronavirus pneumonia epidemic, people across the country are committed to fighting the epidemic. Inteck Group Co., Ltd. has dedicated practical actions to fight the epidemic, demonstrating family and country feelings, reflecting social responsibility, and transmitting positive social energy.
On the afternoon of February 6, Ma Yiwen, Deputy General Manager of Intair Group, on behalf of Intair Group Co., Ltd., donated 300,000 yuan of new pneumonia epidemic prevention funds to Xiaoji Town People's Government. Xiaoji Town Deputy Mayor Wu Juan represented Xiaoji Town People's Government Accept donations.
Yingtai Group Co., Ltd. is a cross-industry, cross-regional, science, industry and trade enterprise group, a Chinese internal combustion engine power station industry enterprise, and the main drafting unit of the national standard for AC generators for generator sets. For many years, Intair Group Co., Ltd. has been adhering to the development concept of \"Don't forget the source of drinking water\". While focusing on the development and growth of the enterprise, it is committed to the development of public welfare undertakings. Actively return to society. In the face of a sudden outbreak, Intair Group Co., Ltd. actively responded to the government's decision to delay work resumption, supported the prevention and control of the epidemic, and proactively assumed social responsibility to minimize the risk of the spread of the new coronavirus pneumonia epidemic, and contribute to winning the tough battle against the epidemic power.
Ma Yiwen said: \"Intech Group should continue to carry forward the spirit of corporate responsibility, actively fulfill social responsibilities, not forget the original aspiration, and keep in mind the mission. We hope that through our practical actions, more companies and entrepreneurs can unite and fight the epidemic. Sincerely care and show true feelings, actively assume social responsibilities, build a copper wall and iron wall for epidemic prevention and control, and win the battle against epidemic prevention and control as soon as possible!\"